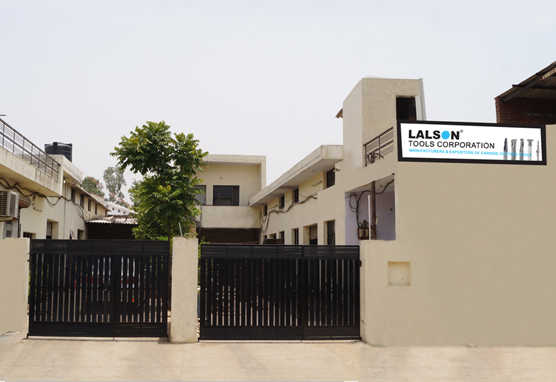 Resources & Infrastructure
The company has sufficient experience & its technical trained professionals are quite conversant with the manufacturing techniques of the products. The manufacturing unit is well-equipped with the modern machineries and testing equipment which enable us to manufacture international standard products.
"The Full Source for Tooling Solution"
Lalson Tools Corporation welcomes you to its flourishing macrocosm of industrial cutting tools. We are emerging as manufacturers of all types of Bore Type Milling Cutters, Shank Type Tools, Carbide Cutting Tools, Segmental Saws etc. We have well established marketing network and our tools are available all over the country through Representatives & Dealers.
Our patrons include ordinance Factories, Railway Workshops, Technical Institutions, Govt. Public & Private Engineering & Auto Mobile Industries. Lalson Tools are also being exported to south east Asian Countries, West Asian Countries & U.S.A. We manufacture tools from finest imported & indigenous High Speed Steel. We follow the latest Indian, British specifications in the manufacturing of these tools. We also manufacture tools as per customer drawings and specifications. Excellence, Candor, Innovation, Integrity & Reliability are the pillars on which the company is established.
We are committed to operate in the highest standards of ethics & values, which gives us the impetus to strive for & deliver excellence in customer services.
Our aim is to achieve global presence by providing absolute satisfaction to our customers through our dedicated and sincere efforts.
Business goal
Our Mission
To be a leader in high technology machine tool industry, most admired by our customers and employees and to provide best products with precision, performance and productivity.
About Us
Our Vision & Values
To be a diversified global firm to provide complete business solutions, augmenting technology.
Meeting expectations and outperforming them
Professionalism
Practice high ethical standards
Delivering the best at all times
Be fair to all stake holders
The company is run by professionals with long years of experience in the field. They are recognized by their expertise in the domain of their work, be it sales or service, mechanical, electronics, hydraulics or system integration. The team is strategically placed to be on close proximity to the users for prompt and easy reach to the customer.